Loading ...
ينطوي التداول في الأسواق المالية على مخاطر كبيرة من الخسارة قد تتجاوز الودائع وقد لا تكون مناسبةً لجميع المستثمرين.
ينطوي التداول في الأسواق المالية على مخاطر كبيرة من الخسارة قد تتجاوز الودائع وقد لا تكون مناسبةً لجميع المستثمرين.

Our initiatives to synergize with the society and the people
Century Financial has teamed with renowned government organizations and international specialists in the Middle East to accelerate sustainable leadership, influence, and specific expertise in the supporting industry by incorporating sustainability goals into its growth journey.
The business set new objectives to instill sustainability in its work culture as it prepared to face modern challenges and scale its efforts for a shared future. Century Financial announced the "Sustainability & U" project in line with the UN Sustainable Development Goals 2030, which asks for concrete action through partnerships.
The leadership believes that businesses around the world have a duty to address today's global concerns, from equipping stakeholders with sustainable practices that impact the economic, environmental, and social situations to embracing governance that supports a well-functioning global economy. The company has rules in place that support diversity and takes a comprehensive approach to adopting sustainability as a daily practice.
The company's internal staff incentives & redemption tool, the Century Coins App, encourages employees to donate to charity with just a few clicks. The business has also actively promoted gender equality, and it is one of the few in the region's finance and investment sector to employ more than 40% women.
The Ghaf tree plantation, recycling bins placed at the pantry, charitable donations made to Dubai Cares and other organizations, the use of reusable water bottles, eco-friendly office lighting, enhancing the greenery throughout our office, improving nutrition by implementing health campaigns like Fruity Monday and weight-loss programs, and more are just a few of Century Financials' sustainability initiatives.
1 / 3
2 / 3
3 / 3
The Dubai Chamber's Centre for Responsible Business (CRB), which was established in 2004, is the first organization of its type in the UAE and a pioneer in the promotion of corporate social responsibility. The Center promotes the adoption of ethical business practices by Chamber member companies, which ultimately improves their productivity and competitiveness.
The top investment consulting firm in the UAE, Century Financial, received the Dubai Chamber Smart Label for its dedication to CSR in four areas: the workplace, the market, the community, and the environment.
The award was created by the Centre for Responsible Business (CRB) of the Dubai Chamber to give businesses a more simple way to assess their CSR plans, receive credit for their accomplishments, and increase their visibility among stakeholders. More than 28 organizations, including HP, CHEP, Majid Al Futtaim, Dulsco, Alpen Capital, Apparel Group, Chalhoub Group, and others, received the prize.
The Acting President & CEO of Dubai Chambers Mr. Hassan Al Hashemi awarded companies and praised their strong commitment and efforts to CSR and Sustainability. He further commented, 'Today an expanded Dubai Chambers starts an exciting new journey. We are delighted to support companies that promote CSR, Sustainability and good governance at all levels. We continue to encourage companies to promote good governance in their management, operations and processes at every level."
1 / 4
2 / 4
3 / 4
4 / 4
As part of the 2010 Tree Planting Event, One Root, One Communi-tree was launched. After achieving its goals of getting people involved in managing recyclable waste and expanding the UAE's sustainable green space, EEG made this project an annual event to tie the Tree Planting Campaign and Waste Management Programs together.
One of EEG's biggest programs, One Root, One Communi-Tree, involves many facets of society, including businesses, educational institutions, and families. The public is welcome to participate in this project, which offers everyone in society the opportunity to have trees planted in their honor if they donate a certain number of recyclable products within a given time frame. Paper, plastic, aluminum cans, toners, glass, and cell phones are among the recyclable items that need to be placed.
Century Financial joined hands with the Emirates Environmental Group by participating in the OROC program, the Free-Clutter Friday program which promotes neighborhood involvement in the recycling initiative, Century Financial employees are urged to share a photo of their recycling efforts. By posting a photo of their donation to the campaign on social media, UAE Citizens can participate in the campaign as well. The program helps to expose young interns in the company to various aspects of the business. They should take good use of this opportunity to learn more about various industries and explore their interests a potential future path.
1 / 3
2 / 3
3 / 3
The activity, which is held on International Youth Day, promotes community involvement in the recycling campaign "OROC" run by Emirates Environmental Group. As part of the "Free-Clutter" initiative, Century Financial employees are urged to share a photo of their recycling efforts.
By posting a photo of their donation to the campaign on social media, UAE citizens can participate in the campaign as well.
The program exposes young company interns to the various facets of business. They should take use of this opportunity to learn more about various industries and explore their interests and potential future paths.
Aligning Century's Initiative with the UN Sustainability Development Goal 12, The UN promotes recycling and waste reduction to minimize waste and reach the goal of zero waste. It expresses the value of recycling while highlighting the significance of responsible production and consumption.
Every day, more and more people around the world are realizing the value of recycling. Century Financial bridges the gap between recycling and sustainability.
1 / 2
2 / 2
The educational landscape in the UAE has seen a major transition during the past few decades. In order to make the country into a knowledge-based economy and a regional center for education, the government has made education a top priority and put in place a number of rules.
By connecting educational institutions with sustainable business practices, EducateNow hopes to make the gap between industry and academia smaller.
The initiative will aims to reach to over 30 universities across the UAE and will raise awareness of the best sustainability practices that educational institutions can adopt to fit with their environmental, social, and governance (ESG) objectives.
Achieving accessible, high-quality education for all people and encouraging lifelong learning are the objectives of the fourth Sustainable Development Goal (SDG). The scope of education access aims through this goal goes much beyond primary school.
At DIAC partner universities, sustainability-related programs are growing more and more well-liked, especially now that the subject has gained national and international attention. The Ministry of Climate Change and Environment, the Ministry of State for Advanced Sciences, and the Ministry of State for Future Food Security are just a few of the related ministries that have been established in the United Arab Emirates in recognition of the significance of sustainable development. We are seeing more students expressing interest in these subjects and looking to pursue their education in related professions as a result of the increased young awareness of climate change and the environment.
1 / 5
2 / 5
3 / 5
4 / 5
5 / 5
Through this program, young company interns are exposed to all facets of Century Financials' operations. Now is their chance to learn more about numerous industries and explore their varied areas of interest before choosing a suitable profession.
For students looking for decent prospects in this cutthroat job market, internship programs provided by institutions in the UAE are changing the game.
The UAE provides a lot of prospects for employment through internship programs, especially given that current market estimations point to the UAE job market expanding favorably.
1 / 3
2 / 3
3 / 3
On the occasion of the UN World Food Day 2022, employee volunteers of UAE's top financial investment consultant Century Financial interacted with over 1000 blue-collar employees at the Al Quoz Labor Camp in line with promoting Health, Wealth, and Happiness throughout the community.
The focus of the health awareness campaign was on the value of eating wholesome foods, forming healthy routines, and dietary advice. The wealth part included personal finance management, the value of conserving money, and ways to cut back on wasteful spending. During these intense sessions, gift baskets with toiletries, calling cards, and shopping vouchers were distributed.
The Sustainable Development Goal 2 emphasizes the connections between promoting sustainable agriculture, empowering small farmers, advancing gender equality, reducing rural poverty, and encouraging healthy lives.
Beyond adequate calories intake, proper nutrition has other dimensions that deserve attention, including micronutrient availability and healthy diets. Inadequate micronutrient intake of mothers and infants can have long-term developmental impacts. Unhealthy diets and lifestyles are closely linked to the growing incidence of non-communicable diseases in both developed and developing countries.
1 / 4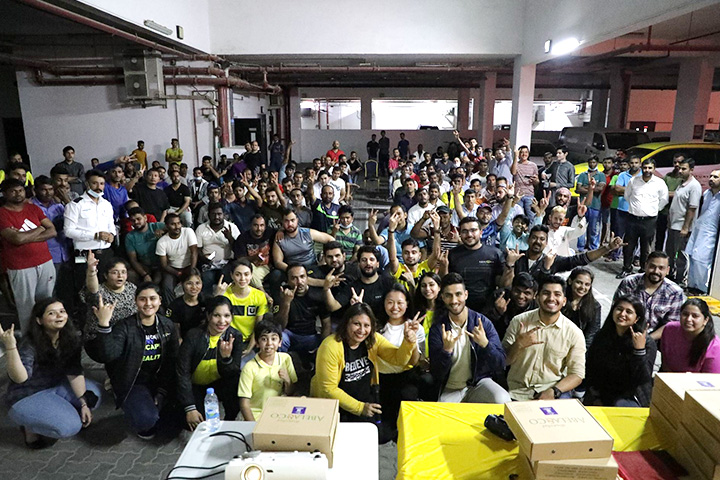 2 / 4
3 / 4
3 / 4
CSR & Sustainability Policy + ESG Policy
Century Financial, UAE's leading consultancy company creates one of its kind Sustainability and ESG Policy to showcase its efforts on creating a sustainable community and workplace. By implementing and following a Sustainability and ESG Policy we are able to fulfill our environmental objectives and, in a way, keeping a check on UN Sustainability Development Goals.
By initiating many sustainability and ESG initiatives such as Educate Now, Free-Clutter Friday program, Sustainability and U. Century Financials has taken major steps in making the world a better place.
Century Financials ensure these policies will be maintained and followed till the very end until we bring up major changes in the community.
1 / 3
2 / 3
3 / 3
Recent CSR Activities