Loading ...
ينطوي التداول في الأسواق المالية على مخاطر كبيرة من الخسارة قد تتجاوز الودائع وقد لا تكون مناسبةً لجميع المستثمرين.
ينطوي التداول في الأسواق المالية على مخاطر كبيرة من الخسارة قد تتجاوز الودائع وقد لا تكون مناسبةً لجميع المستثمرين.
Wednesday, January 10, 2018
Mena FN – UAE- It's time to take stock
تم إعداد هذا المنشور من قبل سنشري للاستشارات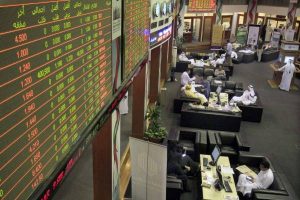 The UAE stock markets began 2018 on a positive note and are projected to maintain this trend with double-digit returns this year – thanks to increased economic growth and more investments in infrastructure and Expo 2020 projects, analysts have said.
Since the UAE market were slightly down in 2017, the market analysts claim that the scrips are currently undervalued and trade at an attractive levels.
Saleem Khokhar, executive director and head of Fund Management at First Abu Dhabi Bank, said 2018 outlook for regional markets should be fairly positive given the stabilisation in oil prices and governments' focus on reforms and enhancing growth, however, geopolitics remains a concern and will likely continue to create volatility.
"Saudi Arabia and Kuwait should benefit from the MSCI Emerging Market catalyst while in UAE, a heavy focus will be on infrastructure development as we head to Expo 2020," Khokhar told Khaleej Times.
To a question, he said the implementation of VAT will likely cause some short-term anomalies in consumer behaviour with large ticket purchases having been made prior to year-end, long-term benefits of VAT include diversification of government revenue streams.
On Tuesday, Dubai and Abu Dhabi bourses gained 1.22 per cent and one per cent to close at 3,411 and 4,441 points, respectively, on the first trading day of 2018.
The DFM General Index saw 180 million shares changing hands worth Dh253.3 million in 2,952 trades on Tuesday. While ADX traded 97.79 million shares worth Dh92.34 million in 907 trades. As many as 14 scrips gained while eight declined.
The Dubai Financial Market and Abu Dhabi Securities Exchange ended 2017 slightly lower by 4.6 per cent and 3.2 per cent, respectively. The market capitalisation of DFM jumped 16.7 per cent to Dh394 billion in 2017 while stocks worth Dh50.2 billion were bought last year.
Akber Naqvi, executive director and head of Asset Management, Al Masah Capital, expects the UAE markets to return to green in 2018 after a small dip in 2017.
"Stock specific opportunities are plentiful so an active, smart fund manager and investor can find many ways to generate above-average returns. Even in a down year like 2017, stock specific portfolios that focused on fundamentals and market timing easily outperformed the major indices, ending comfortably in the positive. Some of our actively managed portfolios ended 2017 up 10-12 per cent, a clear outperformance," noted Naqvi.Factors to watch in 2018
The UAE markets, according to Al Masah Capital's Akber Naqvi, faced headwinds in 2017 primarily because of geopolitical developments which caused international investors to reduce exposure and regional investors did not make up the difference in outflow.
"We expect this main factor to reduce its influence on the markets as the months progress which will allow investors to focus on fundamentals which make UAE markets an attractive entry point at current levels. If oil maintains current levels this will also add another level of comfort allowing institutions to deploy further cash," concludes Naqvi.
Source: Mena FN.