Loading ...
Trading in financial markets involves significant risk of loss which can exceed deposits and may not be suitable for all investors.
Before trading, please ensure that you
fully understand the risks involved
Trading in financial markets involves significant risk of loss which can exceed deposits and may not be suitable for all investors. Before trading, please ensure that you
fully understand the risks involved

AR

Zoom's [ZM] share price has been flying since the start of the year, but will security issues and market competition knock it off course?
Video calling might have boomed as a result of the Covid-19 crisis, but Zoom Video Communications may have peaked too soon, putting its long-term prospects in jeopardy. With people in lockdown and relying on video calling software to keep in contact with family, friends and colleagues, Zoom has been one of the bigger winners of the year so far. Its share price has skyrocketed 145% in the last few months, from $68.04 at the close on 31 December to $164.69 as of the close on 18 May.
Since the start of the year, the company has grown its daily active user base from 10 million to more than 300 million, CEO Eric Yuan said during his Ask Eric Anything webinar on 22 April. Two days after that announcement Zoom said that it would be joining the Nasdaq 100, which sent its share price to an intraday all-time high of $181.50 on 24 April.
All of this isn't bad going for a young company that only went public in April 2019. Having priced its IPO at $36 a share, the share price had risen 72% to $62 by the close of its first day of trading — an impressive feat considering the recent tech IPO failures.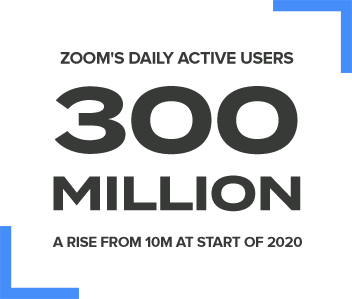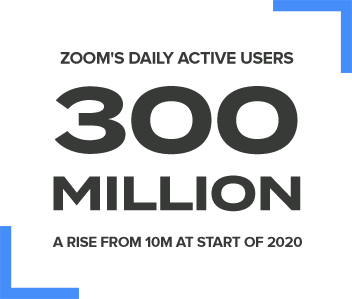 However, the company's most recent quarterly announcement took Zoom's share price investors by surprise. Earnings came in at $0.15 per share for the fourth quarter of 2020, missing the Zacks Equity Research estimate of $0.08.
Total revenue for the quarter was $188.3m, up 78% year-over-year, while annual revenue for its first year as a public company was $623m, representing an 88% jump on 2019's revenue. On top of this, the number of firms with more than 10 employees using the video conferencing service had risen to 81,900 — a year-over-year increase of 61%.
These numbers look good, but when Zoom reports in first-quarter results for 2021 on 2 June Zoom's share price investors will be keen to see if the firm can maintain this momentum.
A strong start to the fiscal year
Looking forward, the company provided guidance of total revenue between $199m and $201m for Q1 2021, which would represent a 63% and 64% year-over-year increase. Revenue for the full fiscal year 2021 is expected to be between $905m and $915m, a year-over-year increase of 45% to 47%.
The company expects earnings per share for the year to be between $0.42 and $0.45, which would represent an uptick of 20% to 28% respectively from 2020's $0.35 per share. Zacks Equity Research has a consensus estimate of $0.35 for the year.
At the time the guidance was released on 4 March, it topped analysts' estimates but they've since strengthened their position. The current Zacks estimates peg revenue for quarterly revenue sits at $922.7m, representing a 48% jump from last year.
Given the pivot to remote working and video conferencing since the guidance was released — and the resulting surge in users — it's somewhat likely that Zoom could beat both its guidance and the revised consensus estimates.
Beyond Q1, however, the challenge will be continuing to grow its user base, and this could prove tricky.
Security issues a concern going forward
For starters, the video platform has been plagued with security and vulnerability issues, including allegations that it was sharing personal data with Facebook [FB]. The criticisms led Yuan to publicly address the issues and admit that the company had fallen short of its own expectations.
Leo Sun, writing in the Motley Fool, said that the company's security flaws raised the issue of trust. "Those missteps raise troubling questions about the way Zoom markets itself to consumers and investors."
The fallout from this could be that both public and business users turn their backs on Zoom and look for alternatives. SpaceX is just one in a handful of high-profile companies to have banned its employees from using the platform.
To rival Zoom, Google [GOOGL] has recently made its platform, Meet, free to everyone — it was previously only available to customers who had a G Suite account. Its Norwegian rival Pexip [PEXIP], which boasts big-name customers including Intel [INTC] and Vodafone [VOD], debuted on the Oslo Stock Exchange on 14 May. The share price jumped more than 40% on its first day of trading.
Long-term success not yet guaranteed
Drew Kootman, analyst at Cantor Fitzgerald, is unfazed by these issues and believes the stock has a favourable upside. "We do not expect a material impact from the recent privacy [and] security issues as we believe the company is taking appropriate steps to improve the problem," wrote Kootman in a note to clients, as reported by MarketWatch.
In mid-April, Cantor Fitzgerald initiated Zoom as overweight. There are currently 25 Wall Street analysts ratings for Zoom's share price in total, according to MarketBeat data. Eight of them are a buy rating, 14 a hold and three a sell.
The short-term sentiment is largely positive. As for the long-term, investors will be keeping a close eye on how it continues to address future security issues and whether it can fend off competition successfully.
"Looking further ahead, Zoom's user growth could decelerate as the pandemic passes and its bigger rivals expand their competing platforms," warned Sun. "Therefore, Wall Street's [revenue growth projections] could be too high and the stock could crumble under the weight of its hefty valuations."
Source: This content has been produced by Opto trading intelligence for Century Financial and was originally published on cmcmarkets.com/en-gb/opto
Disclaimer: Past performance is not a reliable indicator of future results.
The material (whether or not it states any opinions) is for general information purposes only and does not take into account your personal circumstances or objectives. Nothing in this material is (or should be considered to be) financial, investment or other advice on which reliance should be placed. No opinion given in the material constitutes a recommendation by Century Financial or the author that any particular investment, security, transaction or investment strategy is suitable for any specific person.
Century Financial does not endorse or offer opinion on the trading strategies used by the author. Their trading strategies do not guarantee any return and Century Financial shall not be held responsible for any loss that you may incur, either directly or indirectly, arising from any investment based on any information contained herein.