Loading ...
Trading in financial markets involves significant risk of loss which can exceed deposits and may not be suitable for all investors.
Before trading, please ensure that you
fully understand the risks involved
Trading in financial markets involves significant risk of loss which can exceed deposits and may not be suitable for all investors. Before trading, please ensure that you
fully understand the risks involved

AR

Saturday, November 11, 2017
Do Women Make Better Traders Than Men? – The Truth Revealed!!
By Century Financial in Brainy Bull
There are many women in the corporate world who are making bold moves to create value for shareholders, employees, and society. Their companies are redefining industries and enhancing the world at large. To state a few names: Sheryl Sandberg – the COO of Facebook valued at $519 Billion as of today, Tory Burch – Cofounder and COO of our very own Tory Burch brand primarily known for shoes and bags, Sara Blakely – she became the world's youngest self-made female billionaire in 2012, thanks to her invention – Spanx, the revolutionary body-shaping undergarments.
Moreover, it's we women who have been responsible for the success stories of luxury brands like Louis Vuitton. The price of Louis Vuitton stock has almost doubled from 135 EUR in October 2014 to 260 EUR as in November 2017. Gold prices have also increased significantly from around $700 in November 2008 to around $1272 today. The spur in gold prices can also majorly be attributable to women, as we all know; gold and diamond is a woman's best friend.
So, if women can purchase these assets physically and cause their prices to rally so high, why can't women actually try trading these assets online and diversify their investments
Real estate industry would be a yet another classic example justifying the strength of women. According to MSCI, the size of the professionally managed global real estate investment was at $7.4 trillion in 2016. In this massive industry, the majority of Realtors in the United States (around 60%) were women, according to the National Association of Realtors 2016 Member Profile. These investments are considered as one of the riskiest investments, and the dominance of women in this industry clearly suggests that women can handle risk effectively.
But when it comes to Wall Street, it is very common to see men in business suits trading and making deals. That is undoubtedly the stereotype.
Females clearly are a minority in the trading business (less than 15%), so when it comes to numbers, we are definitely not winning, but it's our quality which makes us winners. So it's about time, we see more females on the trading platforms…
Before we try and analyse the reasons that make women better traders than men, lets' meet the some of the most successful and renowned women in the finance and trading sector…
1. Ingeborg Mootz – She proves that women can be excellent traders and that it's never too late to start trading.
The unique thing about Ingeborg Mootz is that she started trading at the age of 83! Ingeborg Mootz is now a millionaire, but she wasn't always one. In fact, until about 15 years ago, she was an ordinary old widow. Now she is one of the most well-known people in Germany.
She was able to gain about 500,000 Euro in a span of 8 years. She didn't possess any educational background in finance but had the will to make a living and good fortune. After her husband (who didn't permit her to work) passed away, she used the money from his security funds to invest in a trading account. Now, at the age of 94, she is more successful than most young traders also. She even wrote a book, in which she shares her knowledge and experience to help others succeed just like her.
2. Kathy Lien
Kathy Lien is one of the most renowned and successful Forex traders around. Apart from making a lot of money, she is also one of the most well-respected writers and authors of Forex trading.
She has published the book 'High Profits in High Heels' and 'Secrets from Today's Top Women Traders' and also writes for various high profile websites. Many men and women now seek her advice on how to become a successful Forex trader.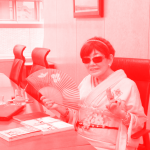 3. Yukiko Ikebe
Yukiko Ikebe, a Japanese housewife, 61 years old, made 800 million Yen (then about $8,500,000) from trading forex at the end of the year 2007. She started trading in 2000 and used technical analysis for her trading, something she learned by herself with the assistance of fund managers.
Having met these successful women, let's take a look at some of the reasons which explain why women are better traders.
The foremost being is the lack of fueled based trading. Women are generally more risk-averse, while men tend to take more risks. Women often pledge to a low-risk approach, which not only minimizes their losses but also provides them with the patience for waiting for the right opportunity.
Besides, most men think they can do things on their own without anyone's help. On the other hand, women are more willing to ask questions when they encounter things they do not understand.
One of the best attributes that women possess, which I think is of great help in the trading arena, is that females aren't as ego-driven as men. It is in the very nature of men to hate going wrong and in general, men would take longer than women to admit if they have made a mistake. This can be a bad thing, particularly when a trade goes wrong. Since they dislike being wrong, this means they stay in the trade longer than they should.
Moreover, the intuitive power of women is also considered one of her best traits for trading. Despite having done all your fundamental and technical analysis, markets may still react in an opposite direction contrarian to your views. However, women have an intuition about the market if it will go up or down, almost like a gut feeling which can help them trade better.
Moreover, men are prone to revenge trading, if a man is confident about his view on an asset, he will stick to his beliefs even if the market proves him wrong again and again. Revenge trading is one of the primary reasons why trading accounts are blown out, maybe that's why women's trading accounts have longer lives when compared to men.
Lastly, Female traders are generally more disciplined and are less prone to panic when things fail to go their way. Women tend to think more cautiously before initiating a trade, as opposed to men who are prone to jumping in head first.
Of course, this doesn't mean that all women are superior to all men, but there is definitely some truth to the notion that females may make more stable traders than their male counterparts.