Loading ...
Trading in financial markets involves significant risk of loss which can exceed deposits and may not be suitable for all investors.
Before trading, please ensure that you
fully understand the risks involved
Trading in financial markets involves significant risk of loss which can exceed deposits and may not be suitable for all investors. Before trading, please ensure that you
fully understand the risks involved

AR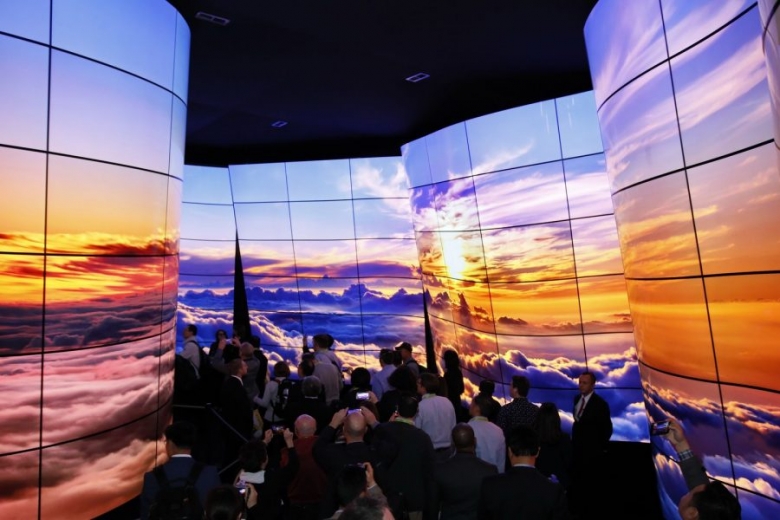 The consumer electronics show in Las Vegas is a magnificent display of innovation and vision. After spending two days and going through the infinite number of amazing gadgets, it is time to unveil the ten most exquisite creations in the world of technology.
A lot of thinking – Lenovo ThinkPad X1 Yoga
In the history of Thinkpads, Lenovo has never launched one with an aluminum chassis. So no more carbon fiber and guess what- It's 17 percent smaller than last year's ThinkPad X1 yoga model, has a brighter display, and weighs just a few pounds. Among the internal upgrades, a user gets improved speakers, LTE support, and four far-field microphones at the top so you can have loud conversations with Cortana. The 9th generation chip is on the way; however, the users might have to check their pockets as the series starts from $1,923.
Entertainment just has gone bigger- Samsung's 75-Inch MicroLED 4K TV
Samsung has proved its mettle in the world of tv after they introduced 75inch MicroLED model. This machine can be very useful at home. The price is still huge, but it is worth it as it fixes the durability issues while it provides the perfect OLED experience to the viewers.
Best Mobile: Yubico YubiKey for Lightning
Yubico has launched Yubikey – a multi-protocol hardware authenticator which will offer more protection, thanks to the arrival of its FIDO2 protocol. For so much time, Apple has restricted the use of other accessories in the IOS ecosystem which has ended this time after Apple showed a green light to YubiKey which now would plug into both Lightning and USB-C ports—for the iPhone and MacBook, respectively.
What is next- Bell Nexus
The Nexus is Next- It means Nexus is the future. While the world dangles around the idea of air taxis and flying cars Mr. Bell (Tony Stark) landed in the middle of the transport section of CES with a five-seater human-sized drone making a grand entrance. It is literally a flying machine which is fitted with six ducted fans to lift the electric helicopter up. That is right tech freaks. This is a Dronopter- a hybrid of drone and helicopter.
The sound of music- Cambridge Audio Alva TT with aptX HD Bluetooth
While nearly everything in home audio has charged into the wireless streaming future, one category has remained stubbornly tethered: record players. Sure, there are Bluetooth models out there that can stream wirelessly, but they run up against the Bluetooth's limitations, pumping out less-than-crisp audio that dulls vinyl's lively vibe. Enter the new wireless version of Cambridge Audio's Alva TT, the very first wireless turntable to utilize the aptX HD standard, which can stream incredibly high-resolution audio (24-bit/48kHz for the beardos out there) over Bluetooth. All you need is another component that supports aptX HD—and a great many audiophiles and home theater amps do, as well as some high-end headphones—then you can listen to your vinyl with the same audio quality that you'd get from a frumpy old wired connection. The wireless version of the Alta TT ships in April, and Cambridge Audio's 50-year history of designing excellent audio products means it will be well worth the $1,700 price tag.
Happy Parenting- TytoCare
We all know, the life of a parent is tough and it becomes tougher when their kid is sick. They have to take him to the medical emergency and face the traffic and inconvenience. Just like you can work from home, it is time to get treated from home. TytoCare – a telehealth solution lets a parent consult a doctor from home. The kit comes with instruments like an otoscope, stethoscope, tongue depressor, and camera. An app uses AI to guide the parent through an exam, check off symptoms, and lets them record a short video to send to a clinician within the nationwide telehealth network. A doctor usually responds within 10 to 30 minutes.
Time to Cook- KitchenAid Smart Display
The Kitchen Aid Smart Display is best known for kitchen appliances. Obviously, it is not just that. The company has come up with a 10-inch display smart screen which works the best even when your kitchen is messy. It has a google voice assistant which works on hand free device and gives recipe instructions, other instructional videos, and more recreation modes. For a messier kitchen, it is made water and dust resistant. So, its fine- You are messy, and you know it!
The codebreaker: Sphero Specdrums
There are approximately one billion different blocks, cubes, or robots that purport to teach small children how to code. But few are as irresistibly addictive as the Sphero Specdrums. Use the app to assign different sounds, musical notes, loops, or beats to each color. Then wear the soft, silicone, Bluetooth-enabled ring to play music on included colored play pad, or the world around you. You can assign custom colors, record samples, mix or produce songs that you've played on the carpet or wallpaper.
Divided by Apple, united by Vizio SmartCast
At this point, we are in a relationship with Alexa, Cortana, Google, and Siri on a first name basis. Voice assistants have exploded in the last few years. However, there is one problem. Every device can either connect to Alexa or Google, but rarely both—and forget about Siri, and the ecosystem she lives in. With the introduction of SmartCast 3.0, the latest edition of its TV interface, Vizio has united this disoriented family of voice assistants. It works with Google Home, Alexa, and Apple's Siri over AirPlay 2. No matter what voice assistant you use, you can stream apps, adjust the volume, cast video, control smart home devices, and perform an ever-escalating number of tasks on Vizio TVs.
Best extra- Otter + Pop Symmetry Series
The best thing to happen to your phone in 2019 isn't a foldable screen or 5G. It's an OtterBox case with a PopSocket built right in. Laugh if you must, but a slap on a PopSocket and soon you'll find it hard to use your phone (or take a selfie, or watch YouTube, or keep your fingers from fidgeting) without one. The marriage of Otter + Pop means you can swap your socket as often as you want, and the appendage lies flush with the case when it's closed—no unsightly bulge. The case starts at $60, plus $8 for each interchangeable top.