Loading ...
Trading in financial markets involves significant risk of loss which can exceed deposits and may not be suitable for all investors.
Before trading, please ensure that you
fully understand the risks involved
Trading in financial markets involves significant risk of loss which can exceed deposits and may not be suitable for all investors. Before trading, please ensure that you
fully understand the risks involved

AR

Thursday, July 09, 2020
Will Netflix's share price continue to climb after all-time high?
By Century Financial in Brainy Bull
As of 6 July, Netflix's [NFLX] share price closed at $493.81, having hit an all-time high of $499.50 during Monday trading. The stock has since breached the $500 mark intraday on the 7th.
In comparison, cinema chains AMC Theatres [AMC] and Cineworld [CINE] have seen their share prices tumble 37.9% and 73% respectively. Netflix's share price has also outperformed both the S&P 500 and Nasdaq 100 indices.
As cinemas and theatres shut up shop during lockdown, streaming emerged as one of the big winners of the COVID-19 pandemic. Netflix [NFLX] added 15.77 million new paying subscribers in the first three months of the year, more than double the seven million that it had expected to add and well beyond the 8.47 million subscribers Wall Street analysts had forecast. A boon then for those invested in or trading Netflix's share price?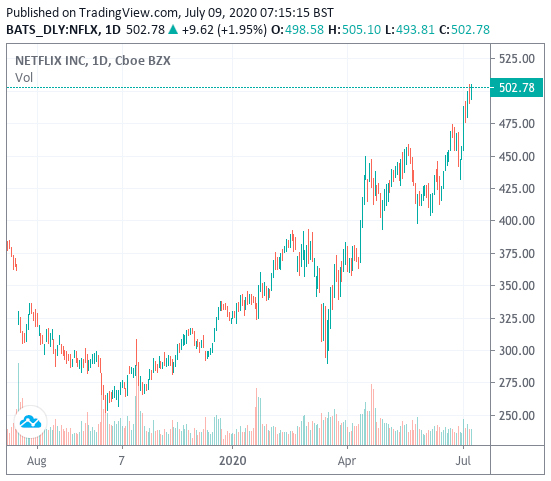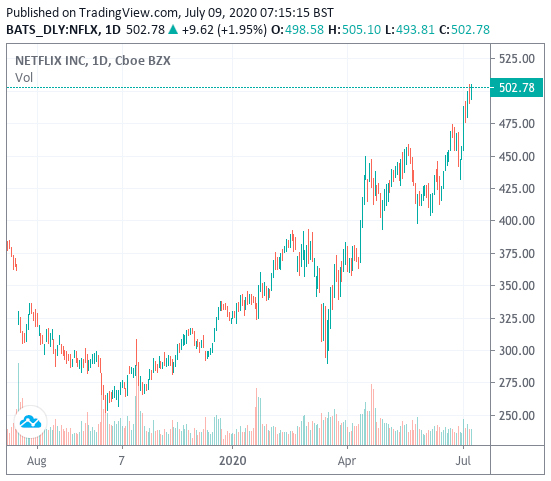 More than a stay-at-home stock
Driving people to join Netflix in recent months has not only been stay-at-home boredom, but the release of a number of hit original TV series, including Michael Jordan documentary The Last Dance and true crime series Tiger King.
By the end of Q1 2020, the streaming platform had 182.9 million subscribers globally, a 22.8% year-on-year increase on Q1 2019.
Revenue for Q1 2020 was $5.77bn, compared with $4.5bn a year earlier and in line with analyst expectations. Net income, meanwhile, rose to $709m — up 106% on Q1 2019's net income of $334m. However, Netflix missed its earnings per share target, posting $1.57 per share versus the Zacks Consensus Estimate of $1.61.
During the call Reed Hastings, CEO of Netflix, highlighted the confusion caused by COVDI-19, explaining that the company would be in a better position to "grapple with the long-term implications".
For Q2 results, due to be reported on 16 July, Netflix is expecting revenue to be $6.05bn. It's also expecting to report an EPS of $1.81 — in line with current analyst estimates, according to CNN Business. The streaming platform also expects to have added a further 7.5 million paid subscribers globally for the three months to the end of June.
Beyond the second quarter, JPMorgan forecasts that Netflix's total number of subscribers will reach 300 million by 2024. As reported by Barron's, the firm's analyst, Doug Anmuth recently said that the stay-at-home stock is currently underpriced. He set a share price target of $535 and reiterated the overweight rating in early June.
"Overall, we think Netflix has been resilient through the production halts, given its breadth of content, long-lead time pipeline, and flexibility to fill some gaps by licensing attractive content," he wrote in a note to clients.
Other analysts aren't so optimistic. Matthew Harrigan, analysts at Benchmark, has set a price target of $340 — representing a fall of nearly 30% from its 2 July value.
The firm believes the stay-at-home shine and resulting uptick in new subscribers is starting to wear off —the return of live sport is already proving to be a challenge. The analyst also argued that international sales are likely being impacted negatively by the softness of the dollar.
Is original programming impacting free cash flow?
Having consistently hit new all-time highs throughout lockdown, Netflix's share price has the potential to skyrocket further. However, this depends on how many paying subscribers the streaming platform can continue to add. With production on original programming, including its sci-fi series Stranger Things, at a standstill, this will hinge on licensed content.
A potentially big downside to Netflix's business is its exorbitant content budget. In 2019, the streaming platform spent $15.3bn on original content and is expected to have spent a further $17.3bn by the end of this year.
While the company reported its first positive quarterly free cash flow in years for Q1 2020, it is also expecting to post a negative free cash flow of $2.5bn for the full fiscal year, according to its Q4 statement to shareholders.
"Meeting [this goal] requires accelerating growth, raising subscription prices, or getting more efficient when it comes to spending," Daniel Kline writes in the Motley Fool.
Needham's Laura Martin said earlier this year that negative free cash flow would be between $2bn and $4bn. She argued that the streaming platform needs to consider introducing an ad-support lower price plan — in the region of $5 and $7 — otherwise it risks losing four million subscribers in the US alone. She cited Roku [ROKU] as an example of how an ad-supported model can be rolled out successfully.
A cheaper plan could prove to be popular among lower-income customers. The need for one is arguably more pertinent than ever given the launch of Disney's [DIS] Disney+ platform, which is currently about half the price of Netflix, Amazon Prime and also the recently launched HBO Max service.
Outside of the US, India is expected to be one of the next battlegrounds in the streaming war. Netflix has made expanding in the country one of its priorities and launched a mobile-only plan there last year to help it in its push. The streaming platform aims to grow its Indian subscriber base to 100 million. This is a lofty target, with analysts currently estimating that its subscriber base in India sits at just two million.
There are currently 39 Wall Street ratings for Netflix's share price. MarketBeat data shows 25 recommend the stock as a buy, 10 a hold and the remaining four a sell. The consensus share price target is $440.17, representing a 7.7% downside.
Source: This content has been produced by Opto trading intelligence for Century Financial and was originally published on cmcmarkets.com/en-gb/opto
Disclaimer: Past performance is not a reliable indicator of future results.
The material (whether or not it states any opinions) is for general information purposes only and does not take into account your personal circumstances or objectives. Nothing in this material is (or should be considered to be) financial, investment or other advice on which reliance should be placed. No opinion given in the material constitutes a recommendation by Century Financial or the author that any particular investment, security, transaction or investment strategy is suitable for any specific person.
Century Financial does not endorse or offer opinion on the trading strategies used by the author. Their trading strategies do not guarantee any return and Century Financial shall not be held responsible for any loss that you may incur, either directly or indirectly, arising from any investment based on any information contained herein.