Loading ...
Trading in financial markets involves significant risk of loss which can exceed deposits and may not be suitable for all investors.
Before trading, please ensure that you
fully understand the risks involved
Trading in financial markets involves significant risk of loss which can exceed deposits and may not be suitable for all investors. Before trading, please ensure that you
fully understand the risks involved

AR

Thursday, May 21, 2020
Will Nvidia's share price continue to flourish on Q1 earnings?
By Century Financial in Brainy Bull
For the most part, big tech has proved itself immune to the COVID-19 crisis — and US chipmaker Nvidia [NVDA] is a case in point. Will its data centre segment further boost its share price growth?
Nvidia may have seen its share price drop from $314.70 to $196.40 in the space of a month during the recent market sell-off, but its recovery since then has been nothing short of impressive.
On the afternoon of 11 May, its share price hit an all-time high of $324.70, up nearly 4% from the opening price of $312.30.
The company is due to report its first-quarter earnings on Wednesday (21 May). Is the company going from strength to strength, and should its share price investors expect further gains?
Keeping up momentum
Nvidia entered the current fiscal year having posted strong earnings for Q4 2020. In the February announcement, it revealed revenue of $3.1bn, a 41% year-over-year increase on Q4 2019's revenue of $2.2bn that beat the analysts' expectations of $2.96bn by 5%. Earnings per share, meanwhile, were $1.89 versus $1.66 expected.
Nvidia's gaming segment — its largest — accounted for $1.49bn, a year-over-year increase of 56%.
The next largest contribution to the revenue in Q4 2020 was from the company's data centre segment. It saw record revenue of $968m (analysts had expected $825m), a year-over-year increase of 43%
At the time, Nvidia revised its total revenue guidance down by $100m, saying it was difficult to estimate the ultimate impact the coronavirus will have on its business. It's expecting revenues of $3bn, which would still mark a 36% rise year-over-year on Q1 2019's revenue of $2.2bn. The average estimate among analysts, according to Yahoo Finance, is $2.98bn.
As for earnings per share, analysts are expecting the company to report $1.68. Across fiscal 2020, Nvidia surpassed quarterly EPS expectations by an average of 10.6% and, having last posted and EPS miss since in November 2018, the streak could continue.
Nvidia: State of play
Given uncertainties around the coronavirus, it's difficult to predict what the numbers might look like in Nvidia's upcoming earnings announcement.
Although gaming is on the up during global lockdowns, production and shipping of new consoles and products with Nvidia gaming chips, including Nintendo's [NTDOY] Switch, has been delayed.
"We consider Nvidia's gaming GPUs and Nintendo Switch-based chips to be consumer discretionary items. We think the economic dislocations resulting from the Covid-19 outbreak pose risk to demand in most electronic end markets," wrote Nomura Instinet equity research analyst David Wong in a note to clients.


Following the fourth-quarter earnings release, Wong was one of a few analysts to suggest the company was in a bearish position because of the impact COVID-19 has had on the gaming supply chain.
While the decline in demand for GPU chips could have a knock-on effect on the data centre segment, it's also this segment that could hold the key to the company meeting or beating its guidance.
Matt Bryson, senior vice president at Wedbush, wrote in a note to clients: "[W]ith so much emphasis on data centre growth, better numbers in this segment should be viewed as a victory for the stock."
Nvidia share price targets on the up
Bryson raised Nvidia's share price target from $311 to $340. Several other analysts have also raised their price target in the last couple of weeks.
Analysts and investors will have been pleased to have seen the company complete its $6.9bn acquisition of Israeli company, Mellanox, right before the quarter ended. The deal, which took over 13 months to finalise, is set to drive data centre expansion and help "meet the challenge of surging global demand for consumer internet services," said Nvidia CEO Jensen Huang in a press statement.
Susquehanna equity analyst Christopher Rolland believes this deal is a reason the company's prospects can be considered bullish. He described the acquisition as "a major coup" and raised his share price target for the stock from $330 to £355.
Furthermore, Nvidia announced earlier this month that it will also be acquiring Cumulus Networks, a business which helps enterprises to optimise their data centre networking stacks. Both acquisitions will likely help the data centre side of the business to go from strength to strength.
There are currently 38 analyst ratings available for Nvidia's share price, according to MarketBeat data. Of these, 29 are a buy, seven a hold and two a sell. As of 14 May, the consensus share price target is $287.52.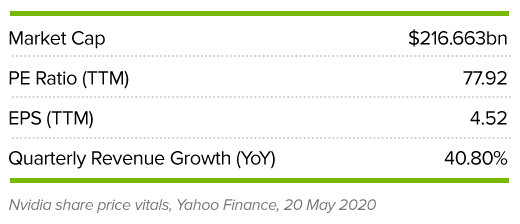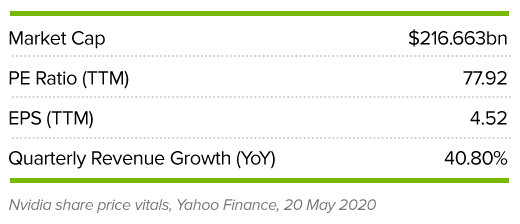 Source: This content has been produced by Opto trading intelligence for Century Financial and was originally published on cmcmarkets.com/en-gb/opto
Disclaimer: Past performance is not a reliable indicator of future results.
The material (whether or not it states any opinions) is for general information purposes only and does not take into account your personal circumstances or objectives. Nothing in this material is (or should be considered to be) financial, investment or other advice on which reliance should be placed. No opinion given in the material constitutes a recommendation by Century Financial or the author that any particular investment, security, transaction or investment strategy is suitable for any specific person.
Century Financial does not endorse or offer opinion on the trading strategies used by the author. Their trading strategies do not guarantee any return and Century Financial shall not be held responsible for any loss that you may incur, either directly or indirectly, arising from any investment based on any information contained herein.