Loading ...
Trading in financial markets involves significant risk of loss which can exceed deposits and may not be suitable for all investors.
Before trading, please ensure that you
fully understand the risks involved
Trading in financial markets involves significant risk of loss which can exceed deposits and may not be suitable for all investors. Before trading, please ensure that you
fully understand the risks involved

AR

The relative strength index (RSI) is a popular momentum oscillator. It is used to determine the future direction of a market. Traders can use the RSI to gauge whether momentum is accelerating or decelerating. It can also be used to evaluate whether a security is overbought or oversold. The RSI is a popular technical analysis tool and can help traders identify and generate trading opportunities in the markets.
The relative strength index was developed by J Welles Wilder Jr as a momentum oscillator to measure the rate of change of price movements over a specific period. The default period used to calculate the RSI is 14 days, but weeks, months and intraday data can also be used. Traders interested in day trading can consider shorter periods to calculate the RSI.
The index generates a measurement between zero and 100. According to Wilder, the RSI is overbought when the index has a reading above 70. It is oversold when it has a reading below 30. In addition to overbought and oversold levels, the RSI can also introduce signals by looking for divergence, failure swings and centreline crossovers.
The RSI can also be used to identify trends. Very overbought and very oversold periods are defined at 80 and 20 respectively. The rate of change of price action can indicate if momentum is accelerating or decelerating. This is important as it can help traders determine the current trading environment and define which strategy to adopt. For example, many traders buy on a dip when negative momentum is decelerating and sell on a rally when positive momentum is decelerating.
Alternatively, you may want to buy on a breakout when positive momentum is accelerating, and sell on a breakdown when negative momentum is accelerating. The RSI will provide enough information to determine if the price of an asset is experiencing negative or positive momentum and whether that momentum is accelerating or decelerating.
The RSI can be used in conjunction with other indicators. It provides important information that traders can use prior to entering a trading position.
How to use the RSI
The RSI can be used in several ways to determine market trends. The most popular way of measuring market trends is to evaluate whether a security is overbought or oversold. This method employs a contrarian style of trading the market: one buys the dip because the proverbial rubber band has stretched too far too fast and is likely to bounce back.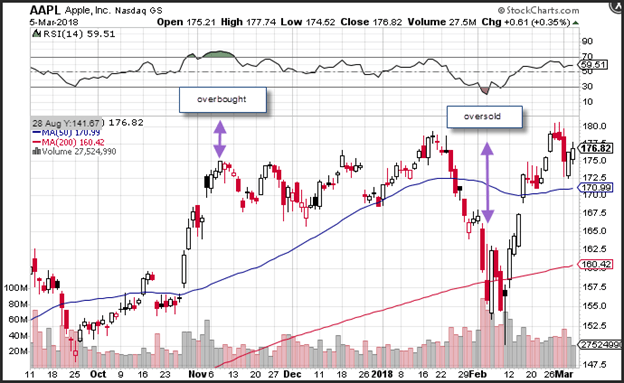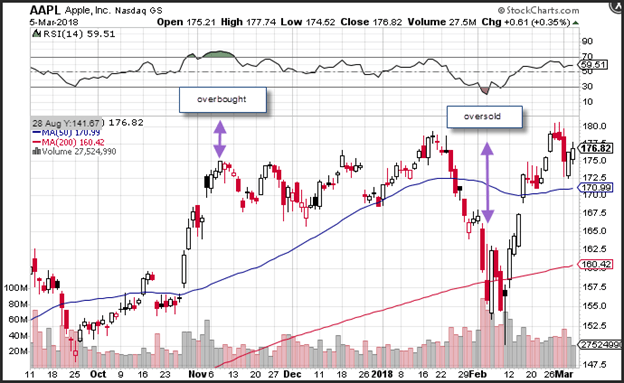 For illustrative purposes only. Apple shares 6 months chart from (October 2017- March 2018). Source: StockCharts.com
The chart above shows the price of Apple shares along with the RSI in the upper panel for the six months ending 5 March 2018. Apple's share price was overbought once in early November 2017, according to the RSI. Apple shares were oversold once in mid-February 2018. The RSI reached a high of 76 in November 2017 and a low of 17 in February 2018.
As with any technical analysis study, the RSI can be used in conjunction with other tools, including the 200-day moving average. In the above chart, Apple shares consolidated around the 200-day moving average in February. There is generally no RSI formula that can be relied on to determine when the rebound will occur. This means that prices could remain below 20 for months before experiencing a rebound.
One could evaluate past overbought or oversold readings to see how long prices may remain overbought or oversold. These could also be used to determine how extreme the reading appears to have become. For example, Apple shares have been overbought six times in the past five years and oversold 13 times.
A rudimentary trading strategy would signal purchasing Apple shares when the RSI is in oversold territory and short selling Apple shares when the RSI is in overbought territory. One can enhance this strategy with the RSI or use another indicator such as a moving average. The RSI can be used across a range of asset classes, such as currency pairs, indices, commodities and shares. It can also be used across daily and forward contracts for spread bets and contracts for difference (CFDs).
Crossover strategy
The crossover strategy is one way of using the RSI as an overbought indicator in conjunction with decelerating positive or negative momentum. One would purchase Apple shares after the RSI crosses above the 30-trigger level, following an oversold reading. A sell signal is generated when the RSI declines from overbought territory below the 70-overbought trigger level.
In theory, the crossover strategy could prevent a trader from purchasing when the market is diving and selling on a sharp rally. Traders would want to avoid a situation where they are buying when the RSI hits 30, just to see the RSI then tumble to 10.
For illustrative purposes only. Apple shares 6 months chart from (October 2017- March 2018). Source: StockCharts.com
Divergence strategy
Divergence occurs when momentum is moving in one direction, but prices are moving in another. In this scenario, prices would continue to slide or rally, but the RSI would fail to confirm that momentum is increasing in the direction of the trend. Decelerating momentum could indicate that the trend is about to consolidate.
This scenario could provide many types of trading opportunities. For example, in the Apple chart, the purple arrow shows a situation where prices hit a new lower low but the RSI does not make a lower low. Prices are still on the decline, but negative momentum has decelerated. The reverse could also occur, where prices are breaking out, but the RSI fails to make fresh highs. This reflects a situation where positive momentum is decelerating.
RSI breakdown or breakout strategy
Support and resistance levels on the RSI could help determine situations where negative or positive momentum is accelerating. In the chart above, the RSI broke down through the trend line support. When the RSI moved higher back to the trend line, it offered an opportunity to short sell Apple shares.
RSI calculation
The RSI is an index between 0 and 100. It is calculated as follows:
100 RSI = 100 - (100/1 + Average gain/Average loss)
The bulk of the calculation is determining the average gain, divided by the average loss. This is referred to as relative strength or RS. The default that Wilder determined is a 14-day period. This can be changed and used on all measures of time. Additionally, losses are expressed as positive values.
The index is easily calculated once the average gain and loss have been determined over a 14-day period. Since an average of the past 14-day period is needed, you would have to calculate the average gains and losses.
The first calculation is the sum of gains over the past 14 days, divided by 14. Then you would calculate the sum of the loss over the past 14 days and divide this figure by 14. This generates the first average gain and first average loss.
Wilder's RS formula is then normalised to create an index between 0-100. This generates an oscillator that swings back and forth but cannot rise above 100. The normalisation makes it possible to easily identify the range of the RSI and overbought or oversold levels. The RSI can reach zero when the average gain equals zero. If we assume a 14-day period, a RSI with zero value would mean that prices moved lower in all 14 periods. This means that there are no gains to measure and the RSI by default has a value of zero. The RSI, on the other hand, is 100 if all 14 periods experience gains. Since there are no losses to measure, the index by default becomes 100.
Summary
The RSI is an important technical analysis methodology and one that many traders will use as part of their trading strategy. It is a versatile technical analysis tool and is most effective when combined with another method. For example, it can be used in conjunction with Bollinger Bands to determine if a security is stretched too far. Support and resistance levels measured by moving averages or trend lines can also be used to find levels where the market is oversold and finds support, or overbought and finds resistance.
Source: CMC Markets UK
Disclaimer: Century Financial Consultancy LLC ("CFC") is Limited Liability Company incorporated under the Laws of UAE and is duly licensed and regulated by the Emirates Securities and Commodities Authority of UAE (SCA). This document is a marketing material and is for informational purposes only and must not be construed to be an advice to invest or otherwise in any investment or financial product. CFC does not guarantee as to adequacy, accuracy, completeness or reliability of any information or data contained herein and under no circumstances whatsoever none of such information or data be construed as an advice or trading strategy or recommendation to deal (Buy/Sell) in any investment or financial product. CFC is not responsible or liable for any result, gain or loss, based on this information, in whole or in part.
PLEASE READ THE FOLLOWING TERMS AND CONDITIONS OF ACCESS FOR THE PUBLICATION BEFORE THE USE THEREOF.
By use of the publication and continuing to access the publication, you accept these terms and conditions and undertake to be bound by the acceptance. CFC reserves the right to amend, remove, or add to the publication and Disclaimer at any time without any prior notice to you. Such modifications shall be effective immediately. Accordingly, please continue to review this Disclaimer whenever accessing, or using the publication. Your access of, and use of the publication, after modifications to the Disclaimer will constitute your acceptance of the terms and conditions of use of the publication, as modified. If, at any time, you do not wish to accept the content of this Disclaimer, you may not access, or use the publication. Any terms and conditions proposed by you which are in addition to or which conflict with this Disclaimer are expressly rejected by CFC and shall be of no force or effect.
No information as given herein by CFC in this publication should be construed as an offer, recommendation or solicitation to purchase or dispose of any securities/financial instruments/products or to enter in any transaction or adopt any hedging, trading or investment strategy. Neither this publication nor anything contained herein shall form the basis of any contract or commitment whatsoever. Distribution of this publication does not oblige CFC to enter into any transaction.
The content of this publication should not be considered legal, regulatory, credit, tax or accounting advice. Anyone proposing to rely on or use the information contained in the publication should independently verify and check the accuracy, completeness, reliability and suitability of the information and should obtain independent and specific advice from appropriate professionals or experts regarding information contained in this publication. CFC cannot be held responsible for the impact of any transactional costs or any taxes as may be applicable on transactions.
Information contained herein is based on various sources, including but not limited to public information, annual reports and statistical data that CFC considers reliable. However, CFC makes no representation or warranty as to the accuracy or completeness of any report or statistical data made in or in connection with this publication and accepts no responsibility whatsoever for any loss or damage caused by any act or omission taken as a result of the information contained in this publication. The articles does not take into account the investment objectives, financial situations and specific needs of recipients. The recipient of this publication must make its own independent decisions regarding whether this communication and any securities or financial instruments mentioned herein, is appropriate in the light of its existing portfolio holdings and/or investment needs.
This document is a marketing material and has been prepared by individual(s), marketing and/or research personnel of CFC. It has not been prepared in accordance with legal requirements designed to promote the independence of investment research and as such is purely a marketing communication. In this publication, any opinions, news, research, analysis, prices, or other information constitute is a general market commentary, and do not constitute the opinion or advice of CFC or any form of personal or investment advice. CFC neither endorses nor guarantees offerings of third party, nor is CFC responsible for the content, veracity or opinions of third-party speakers, presenters, participants or providers. CFC will not accept liability for any loss or damage, including without limitation to, any loss of profit, which may arise directly or indirectly from use of or reliance on such information.
Charts, graphs and related data or information provided in this publication are intended to serve for illustrative purposes only. The information contained in this publication is prepared as of a particular date and time and will not reflect subsequent changes in the market or changes in any other factors relevant to their determination. All statements as to future matters are not guaranteed to be accurate. CFC expressly disclaims any obligation to update or revise any forward-looking statements to reflect new information, events or circumstances after the date of this publication or to reflect the occurrence of unanticipated events.
Staff members/employees of CFC may provide/present oral or written market commentary or analysis to you that reflect opinions that are contrary to the opinions expressed in this research and may contain insights and reports that are inconsistent with the views expressed in this publication. Neither CFC nor any of its affiliates, group companies, directors, employees, agents or representatives assume any liability nor shall they be made liable for any damages whether direct, indirect, special or consequential including loss of revenue or profits that may arise from or in connection with the use of the information provided in this publication.
Information or data provided by means in this publication may have many inherent limitations, like module errors or lack accuracy in its historical data. Data included in the publication may rely on models that do not reflect or take into account all potentially significant factors such as market risk, liquidity risk, credit risk etc.
The use of our information, products and services should be on your own due diligence and you agree that CFC is not liable for any failure to achieve desired return on investment that is in any manner related to availing of services or products of CFC and use of our information, products and services. You acknowledge and agree that past investment performance is not indicative of the future performance results of any investment and that the information contained herein is not to be used as an indication for the future performance of any investment activity.
This publication is being furnished to you solely for your information and neither it nor any part of it may be used, forwarded, disclosed, distributed or delivered to anyone else. You may not copy, reproduce, display, modify or create derivative works from any data or information contained in this publication.
Services offered by CFC include products that are traded on margin and can result in losses that exceed deposits. Before deciding to trade on margin products, you should consider your investment objectives, risk tolerance and your level of experience on these products. Trading with leverage carries significant risk of losses and as such margin products are not suitable for every investor and you should ensure that you understand the risks involved and should seek independent advice from professionals or experts if necessary.
Open an Account
Access full range of products, trading tools and features
Open LIVE Account
Losses can exceed your deposits