Loading ...
Trading in financial markets involves significant risk of loss which can exceed deposits and may not be suitable for all investors.
Before trading, please ensure that you
fully understand the risks involved
Trading in financial markets involves significant risk of loss which can exceed deposits and may not be suitable for all investors. Before trading, please ensure that you
fully understand the risks involved

AR

Monday, February 13, 2023
5 stocks poised to benefit from rising Valentine's Day fervour
By Century Financial in Blog
Valentine's Day, when lovers express their affection for one another, has been widely celebrated since ancient Rome.
People splurge generously on flowers, chocolates, and gifts, to celebrate the special bond with their loved ones.
This year, Valentine's Day spending is expected to reach $25.9 billion, up from $23.9 billion in 2022.
This marks one of the highest spending years on record, as per the latest survey by National Retail Federation (NRF) and Prosper Insights & Analytics.
Retailers seek to capitalize on this spending spree to increase sales while offering customers memorable gifts for Valentine's Day at reasonable prices.
More than half (52%) of consumers that plan to celebrate are expected to spend a record $192.80 on average, up from $175.41 in 2022. The increase comes as shoppers plan to show appreciation for their significant other.
While gifting has evolved to become more thoughtful and customized than ever before, flowers and candies remain popular. The most popular gift items this Valentine's Day continue to be Candy (57%), Greeting Cards (40%) and Flowers (37%).
In this backdrop, these five stocks are well positioned to capitalize on the gifting fervour this Valentine's
Amazon's leading position in the retail e-commerce market makes the company well-positioned to benefit from the spending fervour on Valentine's Day.
Further, the company's efforts to enhance its same-day delivery and expansion of the "Buy with Prime" service can be key catalysts.
Amazon's net sales increased by 9% to $149.2 billion in the fourth quarter of 2022. This was driven by an increase of 29% year-over-year sales in the Amazon Web Services or AWS segment. Moreover, a record-breaking holiday season aided revenue growth.
LVMH — the world's largest luxury goods conglomerate — serves as a one-stop shop for Valentine's!
Apart from Louis Vuitton, luxury brands, including Christian Dior, Celine, Fendi, Benefit Cosmetics, Sephora, Bvlgari, to Starboard Cruise, are a quintessential part of the conglomerate.
The acquisition of Tiffany in 2021 has strengthened LVMH's 'Watches & Jewelry' division.
Total spending on jewelry is estimated at $5.5 billion this Valentine's, according to the NRF survey. LVMH's Tiffany is well poised to capitalize on the trend: "Diamonds are a girl's best friend."
The company's fourth quarter revenues of €22,699 marked an organic revenue growth of 9%.
Valentine's gifting is incomplete without chocolate. Mondelez's portfolio boasts brand names like Cadbury, Toblerone and Milka chocolates; Oreo biscuits; Halls candies, to cite a few.
In fact, Cadbury's limited edition of 'Pop Your Heart Out' chocolate bars are a compelling option in the season of love.
In 2022, the company increased Silk premium chocolate penetration by 2X versus 2021.
Further, seeing the rise in popularity of health-focused gifting of chocolates, Mondelez is focusing on product differentiation, with Pralines & Dark chocolate elevating its portfolio.
The company reported net revenues of $8.695 billion in the fourth quarter of 2022, which increased 13.5% year-over-year, backed by organic net revenue growth of 15.4%.
One cannot miss Cupid's arrows when Estee Lauder is in the house. The cosmetics giant offers makeup, skincare, fragrance, and haircare products.
Estee Lauder appears well-positioned to gain from Valentine's spending spree backed by
strength in MAC and Bobbi Brown businesses
burgeoning skincare category with The Ordinary, La Mer and Clinique brands; and
solid demand for designer fragrances across Tom Ford Beauty, Le Labo, Beautiful franchise line of products
However, the company's fiscal 2023 second quarter results were impacted by the rising number of COVID cases in China. Net sales were down 12% year over year on a constant currency basis to $4.62 billion.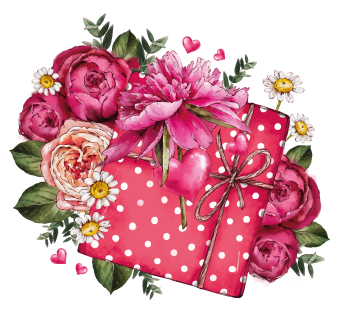 Flowers are almost always given on Valentine's Day, and 1-800-FLOWERS.COM could be a big beneficiary of this trend.
The company offers floral gifts, gourmet foods, and personalized gift baskets for different occasions.
1-800-FLOWERS.COM is worth mentioning because it allows Valentine's Day revellers to surprise and impress their loved ones with beautiful mixed bouquets and classic roses.
The company recently reported 2023 fiscal second quarter results for the period ending January 1, 2023. Revenues declined 4.8% year over year to record $897.9 million on softer demand in corporate gifting.
Disclaimer: Century Financial Consultancy LLC ("CFC") is Limited Liability Company incorporated under the Laws of UAE and is duly licensed and regulated by the Emirates Securities and Commodities Authority of UAE (SCA). This document is a marketing material and is for informational purposes only and must not be construed to be an advice to invest or otherwise in any investment or financial product. CFC does not guarantee as to adequacy, accuracy, completeness or reliability of any information or data contained herein and under no circumstances whatsoever none of such information or data be construed as an advice or trading strategy or recommendation to deal (Buy/Sell) in any investment or financial product. CFC is not responsible or liable for any result, gain or loss, based on this information, in whole or in part. Please carefully read full disclosure mentioned on the website.