Loading ...
Trading in financial markets involves significant risk of loss which can exceed deposits and may not be suitable for all investors.
Before trading, please ensure that you
fully understand the risks involved
Trading in financial markets involves significant risk of loss which can exceed deposits and may not be suitable for all investors. Before trading, please ensure that you
fully understand the risks involved

AR

Wednesday, September 07, 2022
Apple's (AAPL) iPhone 14 launch event and current market dynamics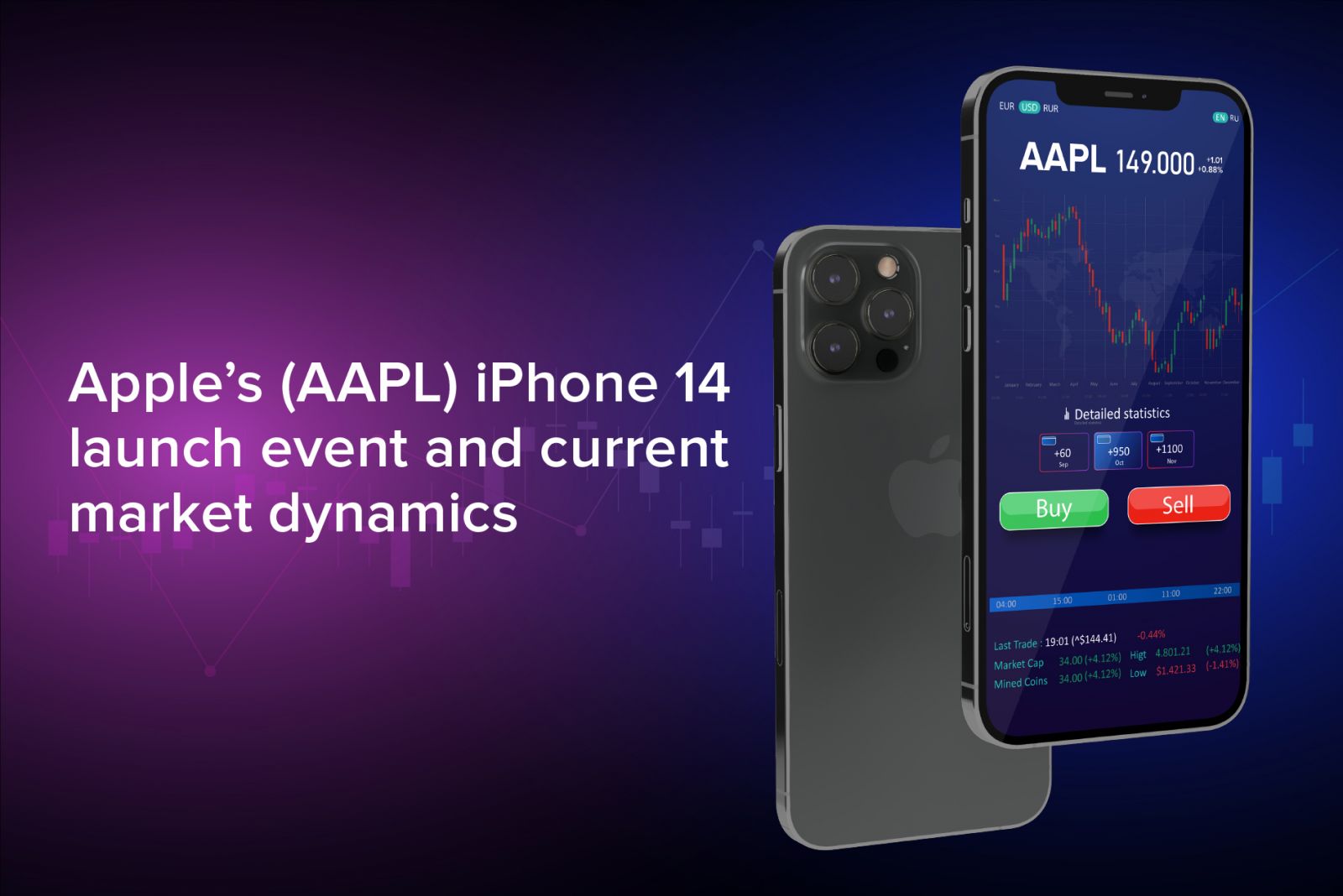 Apple's (AAPL) much-awaited September event may be named "Far Out" but is fast approaching and now in close vicinity!
The tech giant, with a whopping $2.504 trillion market capitalisation, as US markets close on September 2, 2022, holds multiple events in a year. Still, the iPhone launch event remains an ultimate showstopper.
Apple is expected to unveil the largest (in terms of average size) and most expensive (as per the average MSRP price) iPhone 14 series roster in its "Far Out" Event on September 7, which include the iPhone 14, iPhone 14 Plus, iPhone 14 Pro and iPhone 14 Pro Max.
The exciting tech features and upgrades, including the new Apple A16 4nm processor, 48MP main camera with 8K video recording ability, and round and pill-shaped Face ID cut-outs, are reserved for the iPhone 14 Pro models.
Dominant iPhone market share is a crucial catalyst
It must be noted that the iPhone 14 models are set to replace the blockbuster iPhone 13 5G series that helped Apple hit a new market share milestone across the US.
According to a recent analysis shared by Counterpoint Research in a Financial Times article, 50% of all smartphone users based out of the United States are now using an iPhone, leaving the rest of 50% to some 150 Android devices, including Samsung Galaxy.
Are you interested in stock market investment?
Are you looking to explore the stocks making the wave?
iPhone contribution to Apple revenues at a glance
Despite the broader macroeconomic headwinds, including inflation and recessionary fears owing to interest rate hikes, revenues from iPhone in the fiscal 2022 third quarter ended June 25, 2022, grew 2.8% on a year-over-year basis. The figure came in at $40.67 billion, contributing 49% to total revenues.
The increase in iPhone sales favours the growth in earnings per share, consequently boosting the returns for the investor. This growth, in turn, is expected to instil investors' optimism in the stock.
You must also note that as of June 25, 2022, the company had $48.23 billion in cash, cash equivalents, and marketable securities, forming 43% of total current assets. This massive pile of cash should enable Apple to easily tap growth opportunities, especially in the backdrop of rising interest rates.
Stock market investment enthusiasts often look for cash-rich companies during interest rate hikes as debt becomes more expensive.
However, risks in the broader smartphone market remain a headwind for Apple. The backdrop of decades-high inflation and economic uncertainty has significantly dampened consumer spending resulting in increased inventory, per the latest IDC data on 'Smartphone Market Share.'
Diversified product line and expansion into newer geographies remain other key catalysts for Apple.
Other product rollouts in line
Apple is all set to announce the availability of the Apple Watch Series 8, Apple Watch Pro, and Apple Watch SE at its "Far Out" event.
The tech giant may also announce 10th-generation iPad and 11 and 12.9-inch iPad Pro products.
Final words
Apple's key strength is perhaps its loyal sticky customer base. iOS users are assumed not to be too keen on substituting iPhones for competitive Android phones. It appears they prefer to upgrade themselves with the newer versions the company tactfully releases yearly.
iPhone 14 announcement is expected to be a welcome addition to Apple's enriched product line. Investors would be keenly hooked to the announcements, and AAPL stock price is anticipated to show some volatility into the event.
Disclaimer: Century Financial Consultancy LLC ("CFC") is Limited Liability Company incorporated under the Laws of UAE and is duly licensed and regulated by the Emirates Securities and Commodities Authority of UAE (SCA). This document is a marketing material and is for informational purposes only and must not be construed to be an advice to invest or otherwise in any investment or financial product. CFC does not guarantee as to adequacy, accuracy, completeness or reliability of any information or data contained herein and under no circumstances whatsoever none of such information or data be construed as an advice or trading strategy or recommendation to deal (Buy/Sell) in any investment or financial product. CFC is not responsible or liable for any result, gain or loss, based on this information, in whole or in part. Please carefully read full disclosure mentioned on the website.